USS Corvina (SS-226)
The namesake of the USS Corvina is any of various important food fishes related to the weakfish and the croaker of the Atlantic coast.  She was launched at the Electric Boat Co. of Groton, CT, on 9 May 1943, and commissioned on 6 August 1943. Venturing into enemy waters on her first patrol, Corvina (Cdr. R.S. Rooney) departed from Pearl Harbor on 4 November 1943. After topping off with fuel at Johnston Island she proceeded to an area south of Truk, there to attack enemy naval forces during our surface operations in the Gilbert Islands. She was to patrol as close to Truk as enemy anti- submarine measures would permit, with her sister submarines USS Blackfish (SS-221) and USS Drum (SS-228).  On 14 December, she was to pass to the command of Commander Task Force Seventy-Two and proceed to an eastern Australian port for refit and duty in SubSoWestPac. When the major surface force operations in the Gilbert Islands were finished, Corvina was directed by dispatch on 30 November to pass to the command of Commander Task Force Seventy-Two on 2 December 1943. The message was repeated three times on each of two successive nights, and an acknowledgment was directed, but none was received. Because of the difficulty being experienced as a result of Japanese interference, Corvina was considered to have passed to Commander Task Force Seventy-Two, despite her failure to acknowledge. She was directed to proceed to Tulagi and rendezvous with a surface escort, but she did not appear. Again transmissions directing answer were repeatedly sent, but were not fruitful. Since she had not appeared or been heard from since her departure from Johnston Island on 6 November, Corvina was reported as presumed lost on 23 December 1943. Enemy records indicate that Corvina met her doom on 16 November 1943, by enemy action, evidently while on the surface at night charging her batteries. The Japanese submarine I-176 reported having sighted a surfaced submarine in Latitude 5°-50'N, Longitude 151°-10'E, and torpedoed her. Three torpedoes were fired and two were reported to have hit, causing "a great explosion sound."  She was the only US submarine sunk by a Japanese submarine during the entire war.  The entire crew of 82 officers and men were lost.  The Japanese submarine I-176 was later sunk by a US destroyer.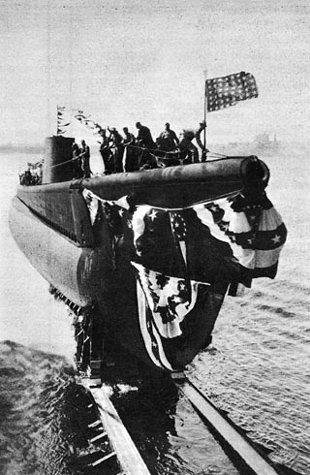 CORVINA BASE HISTORY
In 1999 United States Submarine Veterans, Inc. (USSVI) held their National Convention in Reno, NV. As a result of this Convention, Don Brown FTGC(SS) RET, decided that there were enough former submariners in the Reno area to start up a new base (USSVI uses Base rather than Chapter to identify the individual groups). Until this time, the closest base was Mare Island Base in Vallejo, CA, over 200 miles away.
Don contacted Jim Avitt RMI(SS), USN, RET, who lived in Carson City, about contacting these former submariners. An extensive advertising campaign was started and Feb 12, 2000 was set as the first meeting date. Thirty-two men attended the inaugural meeting. From all walks of life, from all age groups, with only a few knowing anyone else there, the commanality of each having Dolphins made them instant comrades. The officers initially elected were: Don Brown, Base Commander; Bruce Hedrick, Vice Commander; Leif Larson, Secretary; and Primo Quarisa, Treasurer. The following men are "plank owners" of CORVINA Base.
Paul Allen
 Jim Avitt
Gerald Baer
Don Brown
Joe Casten
Jim Carter
Dave Craig
Bill Griffith
Bruce Hedrick
Michael Johnson
Frank Kenyon
Leif Larsen
Harold Lister
David McPhee
Dave Miles
E.L. "Whitey" Morrison
Norm Peterson
Melvin Phillips
Jack Quade
Primo Quarisa
Bob Rich
Jim Saunders
Lon Schmidt
Russ Scofield
Harry Sembach
Larry Shipman
Francis "Gunner" Signore
Mike Tatro
Frank Urbani